Mike "The Conger" Morgan's Stainless Steel Long Swivelling Anti-Tangle Booms - I was fishing, in the good company on my good pal Mike "The Conger" Morgan, who hails from South Wales. I was fascinated by some extra long stainless steel swivelling booms which he was using to keep his flowing trace and lure away from his main line as he lowered it to the sea bed on the mid-Channel wrecks.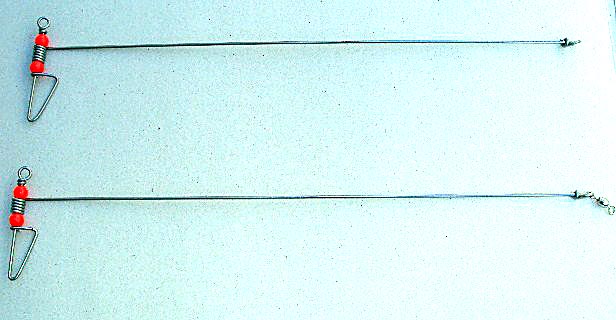 MTC Boom 300 mm
Mike kindly sent me half a dozen of his long booms to try. I am impressed by them and will certainly use them myself.
Mike Morgan wrote to say:
MTC Anti Tangle Booms
These extra long anti-tangle booms are based on the Flying Collar design and are ideal for drift fishing situations presenting an artificial lure such as a shad, sidewinder or similar lure. Constructed of high grade stainless steel wire they have been tried and tested over the Channel wrecks and helped account for specimen Pollack, Ling and Cod. The 2 biggest Pollack caught have weighed over 22lbs using the booms.
These booms are extra long and therefore can keep the artificial lure away from the main line when dropping down thus reducing tangling. They have also been designed to reduce line twist as the boom arm swivels around the main line attachment arm.
PRICES:
Packs of 10
10 Inch (250mm) Standard MTC Boom - £5.95
12 Inch (300mm) General MTC Boom - £6.45
14 Inch (350mm) Wrecking Boom - £9.15
16 Inch (400mm) Mega Wrecking Boom - £9.75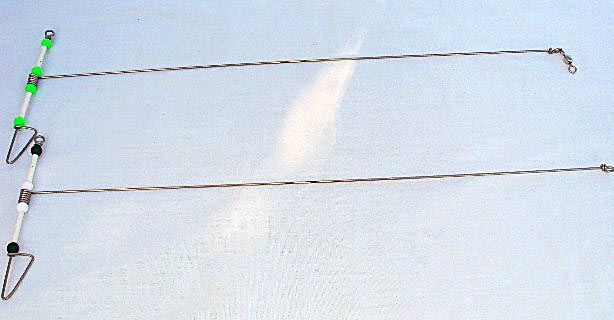 MTC Mega Wrecker Boom
Also available to pre order are:
Booms fitted with a 1/0 crane swivel for an extra £1.00 per 10
Postage Charges and Delivery and Packaging
For any 10 Pack please add £1.95 for postage and packaging
For any 20 pack please add £2.45 for postage and packaging
Please contact for further details:
Michael Morgan
40 Cobden Street
Aberaman
Aberdare
CF44 6EN
Mobile: 07875 713 534