After almost three years on the waiting list I was delighted when last year, I eventually joined the Dart Angling Association as a "Brown Trout" member.
The Association are the riparian owners, or lease about 11½ miles of bank fishing for Brown Trout, Sea Trout and Salmon on the River Dart from just below Totnes Weir pool upstream, through the non-tidal reaches to just below Holne bridge, near Dart Country Park.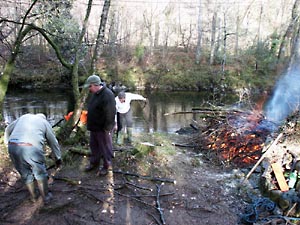 There is lots of essential winter work for members clearing scrub and dead trees from the bank side to facilitate safe access to the water.
On a day in late April, I went out with the Chairman & Hon. Sec. to see the first of the annual stock of Brown Trout being introduced to the non-tidal reaches of the River Dart. As an unexpected bonus, I hitched a ride in our Chairman's vintage Morris open car.
The fish were transported
to the various river bank sites
in cooled and oxygenated tanks
of water
But you still have to carry
them across the fields to
the river.

The Spaniel loved it.

Trying hard not to
fall in
These fish are reared and grown on in tanks from the wild strain of Brown Trout. They are then introduced to supplement the native stocks.
The average size of fish were about 2 to 3 lbs and in fin-perfect condition.
Brown trout leaving the bin
into the River Dart
In some spots where the
banks are steep, the Trout
have to be carried to the water
in nets from the bins
The Trout certainly appeared
to prefer their new home.

A typical riffle on the River Dart.
We put about 400 fish into the water at various points along a stretch of the river.
Some Brown Trout will choose to remain in the river, while others will decide to run to sea and be known as "Sea Trout". They are genetically identical. No one knows what triggers the difference in behaviour patterns.
About a month earlier, the Dart Angling Association introduced a significant number of salmon Parr to the river.
It is pleasing to see sport anglers putting their fair share back into the environment.
It is interesting that as long ago as the early 1900s, a train laden with live Trout and Salmon used to be dispatched from Loch Leven in Scotland. It used to stop at various points alongside the River Dart and fish from the train were introduced to the waters. This historic practice is referred to in the records of the Dart Angling Association and in the newspaper records at Dartmouth Museum.
Fly fishing is available to non-members by day ticket which can be purchased from the Sea Trout Inn at Staverton, Nr. Totnes, 'phone 01803 762 274.
I look forward to telling you of the game fishing using a fly in these local waters as a welcome additional interest during the coming months, now that the season has opened.