I've just enjoyed a very pleasant couple of hours in the company of Phil Hyde, SW Tackle Developments, whose workshop is based in Winner Street, Paignton.
Phil brought with him his collection of beachcasters "through the ages" to Slapton Beach at Torcross, near Dartmouth.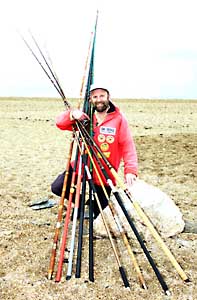 They start with a "Tonkin" cane, with large plain wire rings, progressing via a beautiful split cane rod, to the more modern glass and carbon based models with which we are all familiar.
Phil showed me a Hardy "Longbow", which brought memories flooding back. I used to own one in 1969 and used it to break the 100 yard barrier. It seems a distant memory now, but I can recall the excitement. It caught me many fish from the beaches around Hove and Brighton, where I lived and worked about that time.
He also had one of the earliest Zipplex rods, dating from about 1972, together with other interesting items.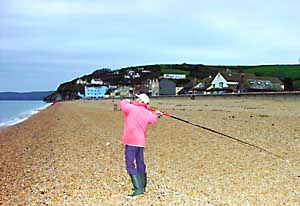 Phil showed me various casting styles from the familiar "off the ground" method, to the more complex modes of "pendulum" action.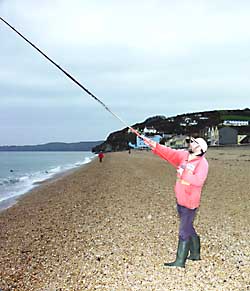 It's only when you have the chance to watch a real master at close quarters, that you appreciate your own shortcomings!
Phil gave me a short spell of tuition and very quickly had me casting his new rod, built on a Conoflex blank, (from a static start, without using a pendulum action), in the region of 160 yards - for me, that's about a 60 yard improvement!
You can 'phone Phil for rod repairs, replacement rings, rebuilds, or specialised newly built rods to your precise specification and requirements, or for personal coaching in beachcasting techniques, on 01803 553660, or you can Email philthefish@eurobell.co.uk