I received a letter dated 16th May 2005 from Les Harding, Hon. Sec. at Paignton Sea Anglers' Association. Here's what it said:

Dear Mike,
With reference to your open letter published in the Herald Express.
The Committee were disappointed with the way and tone in which you expressed your concerns. We would appreciate an explanation as to why you did not address your concerns directly in writing to the Secretary in the proper manner (Rule 37).
We feel if you really believe this to be an ill-considered Rule the best way to achieve change is through the proper channels, i.e. The Fishing Committee.
The Committee also feels your approach may have a detrimental affect on the club and would appreciate your view on this point.
Yours sincerely - Les Harding - Club Secretary.

OK let's look at the complete situation - firstly - here's the Open Letter which was published in the Herald Express Newspaper on Friday 22nd April 2005:

Dear Sir,
I read Stan Rowe's sea angling column in your paper reiterating a Committee decision by Paignton Sea Anglers' Association to refuse fish weighed elsewhere than at their clubhouse, for any of their own club competitions and trophies.
Minor exceptions apply to fish caught in organised open competitions elsewhere, or beyond their club home waters, but these are of little relevance.
It cited conservation as one of the principals behind the decision. That is bunkum.
A fish weighed ashore on accurately certified scales by competent people and witnessed by independent parties is acceptable at other angling clubs. It is far more likely that such fish can be weighed and returned alive with the minimum of distress, if weighed close to the scene of their capture. There is no need to take every specimen fish back to Paignton SAA clubhouse from wherever.
I recognise the need for correct identification of species. Where that is in doubt, then the fish could be taken back, or if it is desired to release it alive, several photographs should be provided by the captor, to remove doubts.
This ill considered rule came to a head last Friday when Fred Hayward caught a superb Conger Eel of 101 lbs on 20 lb line. It is a potential International Game Fishing Association light line World Record.
The fish was weighed ashore at Brixham SA club, by their weigh-in officer on their accurate and properly certified yard arm balance which weighs big fish in lbs and ozs. Allegedly, the heavy duty rotary spring scales at PSAA only measure in lbs, NOT in ozs. That was the reason why Brixham was chosen to weigh this fish accurately, as a potential world record.
Another Eel in excess of 69 lbs, caught by PSAA member, Paul Cashmore was similarly weighed. This Conger is also a potential world line class record.
PSAA have declined to accept either fish. That is an inequitable decision, though in accord with their stated rules.
Having recently excluded and disallowed other specimen fish in similar circumstances, it would be very wrong for PSAA to make an exception to accept Fred's spectacular Eel in the present state of affairs. Sorry Fred.
Perhaps Fred Hayward's giant Conger will cause PSAA to re-examine again the relevant rules and apply some common sense to their long overdue revision?
Mike Concannon

Here's my letter of reply to the Club Secretary at PSAA for the information of his Management Committee - dated 18th May 2005:

Dear Les,
I am somewhat surprised to have received your letter dated 16th May. I regret that my genuine concerns have been taken so personally in some quarters. Clearly the Club Committees have a serious breakdown in their internal communications.
I did discuss the issue with Tim Bird, your Chairman of the Fishing Committee, long before the present difficulties with Fred Hayward and Paul Cashmore's Congers even arose. I could easily foresee the sort of problems which have come to fruition.
On the 18th April, I again wrote via Email to Tim Bird, detailing precisely what I said on my "Fishing Dartmouth" web site and bringing the matter to the direct attention of his Fishing Committee.
My exact words in that letter to focus his attention on addressing my concerns via the correct channels were:
"I reproduce the wording of an extract of the relevant web page below, for the information and attention of your Committee some of whom may not have access to the Internet. Perhaps they will consider that I have, by my words, brought discredit on PSAA. That is not my intention. If they do, then so be it. This matter needs to be properly and equitably resolved without undue delay."
I received a hostile feedback from Tim, even before the matter had apparently been further discussed in Fishing Committee and therefore felt obliged to respond to the previous publication of PSAA's stance published in Stan Rowe's weekly column in the Herald Express Newspaper.
I was subsequently told that my letter on this matter, together with a further letter from Simon Pedley, were discussed at the recent Fishing meeting, under "Any Other Business", long after the fate of Fred & Cash's Eels had already been discussed and decided much earlier on the agenda. That does not seem the correct way to deal with such matters.
I have concluded my personal input to this debate with an article covering the relevant matter which will be published in the next edition of Sea Angling News. It has already gone to press and will be circulated across the UK towards the end of May 2005. I enclose the transcript for your information and attention.
If PSAA are so resistant to proper and open discussion, and their Committees are so apparently unwilling to heed the constructive views of their members, then frankly I doubt that I would wish to remain a member in such circumstances.
I most certainly do not want to resign, as I enjoy being a PSAA member. I uphold the club's reputation and as Hon. Sec. of Torbay Borough Sea Angling Festival, work very hard on behalf of the Club. However, if your Management Committee wishes me to do so, then I will of course oblige.
I unconditionally reserve my right to respond on any similar concerns in the future. If the initial internal approach via the proper channels does not properly elicit a response to an issue, then you leave your members little alternative but public discussion.
I look forward to your early reply as to the wishes of the Management Committee regarding my continued membership of PSAA.
Yours sincerely
Mike Concannon

Finally - here's the text of an extract from my article in the forthcoming edition of Sea Angling News, which I forwarded together with my reply. It will be published across the UK towards the end of May 2005:

I.G.F.A. POTENTIAL LIGHT LINE WORLD RECORD CONGER EELS
On Friday 15th May, Paignton SAA members Fred Hayward and Paul Cashmore were fishing from Simon Pedley's Paignton based charter boat "Our Joe-L". Their passion is light line fishing for huge specimen fish.
Paul Cashmore already holds the IGFA World Record for a Conger which weighed 64 lbs 4 ozs which he caught on 6Kg (12 lb B.S.) line back in 1991.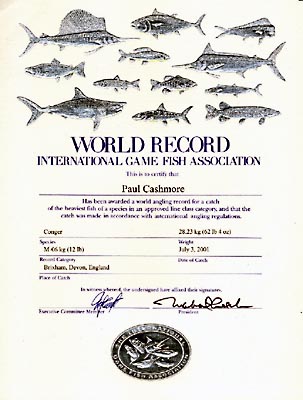 What a fabulous day of sport they both enjoyed. Using 20 lb B.S. line, Fred Hayward caught a magnificent Conger Eel which when later weighed ashore at Brixham SAC, tipped their yard-arm balance to 101 lbs 2 ozs. That is a stupendous potential line class I.G.F.A. World Record, which if ratified, is unlikely to be bettered in the foreseeable future.
What are the chances of hooking a 101 lb Conger? What are the chances of boating such a big Eel on 20 lb line? How do you stop such a massive muscular fish from taking you back into the wreckage?
Not to be outdone, Paul Cashmore then caught another Conger which when later weighed ashore at Brixham was 69 lbs 8 ozs. "Cash" caught his own specimen Eel on 16 lb B.S. line. Yet another new potential I.G.F.A. World Light Line class record.
Fred Hayward (l)
101 lbs 2 ozs on 20 lb line
& Paul Cashmore (r)
69 lbs 8 ozs on 16 lb line
proudly hold their potential
International Game Fishing Assoc.
light line World Record
Conger Eels
caught aboard Simon Pedley's
Paignton based charter boat
"Our Joe-L"

Friday 15th April 2005

Photo courtesy of Stan Rowe
They elected to return to weigh-in their fish at Brixham SA, because they knew the yard-arm scales there were to the best of their knowledge, certificated and weigh in increments of two ounces. For the cost of a telephone call, a responsible member of the Brixham SA turned out to weigh the fish.

They had chosen not to take the Eels back to the Paignton club house, because the certified heavyweight circular spring balance there weighs only in increments of 8 ozs. Ounces are very important when you are holding a potential World record fish. As the lady said, "Size is everything".

In the evenings the PSAA clubhouse does not open until 7.30 pm for the purpose of weighing-in fish. They were understandably concerned that during the intervening hours, their fish would dry, losing moisture and weight by evaporation.

Now comes the unpleasant sting in the tail (or tale) of this adventure. Paignton SAA has recently excluded several fish caught by their members and weighed-in at other angling clubs. Their club fishing byelaw, a copy of which is handed to every new angling member states:

Para 8: All fish to be weighed within 24 hours of capture by any officer, Management Committee member or Fishing Committee member of the Association, and witnessed by a senior member at the Association's headquarters. The weigh-in form to be submitted to the Records Officer of the Association within 7 days from the date of capture. Fish must only be weighed-in once and detailed after weighing, excepting when live fish are being returned after weigh-in. Weigh-in of fish at the Association's headquarters does not apply if:

A weigh in is undertaken at any Angling Festival, Open Competition or similar event when fish must be weighed at the time and place specified. An officially signed form from such an event will be accepted by the Association if submitted to the Records Officer within 7 days of the date of capture.

Members are angling outside the Association's boundaries and cannot return to the Association's headquarters to weigh in, then the fish must be weighed on officially certified scales at an official weigh in station or another Angling Club headquarters. An officially signed form will be accepted by the Association if submitted to the Records Officer within 7 days from the date of capture.

Just to further clarify this, I will also detail Para. 1 which defines the club home waters as:

The Association's boundaries are from Portland Lighthouse West along the coastline to the Old Severn Bridge including all the tidal waters within these boundaries.

At the recent AGM of PSAA a member asked the committee to reconsider the above bye-law. The matter was referred back to the Fishing Committee who decided not to make any change to this historic club rule which has recently caused considerable controversy and dissatisfaction.

To rub salt into the wound, PSAA publicised their decision via Stan Rowe's regular sea angling column in the Herald Express local newspaper the very same day that these outstanding trophy fish were captured.

As soon as Fred and Cash returned to the PSAA clubhouse early that evening, they were allegedly met by certain members who were very eager to inform them that their potential World Record Conger Eels were ineligible for any of their home club's Trophies, leagues, or monthly competitions, because they had been weighed-in elsewhere. The guys were "Gutted".

I spoke with the Fishing Chairman and expressed my sincere views prior to the meeting when the revision of this rule was discussed in committee. My personal stance is straightforward:

Fish properly weighed in elsewhere than at the PSAA clubhouse, on certified scales, by reliable people, such as the committee member of Brixham SA who weighed these Congers should also be acceptable to PSAA.

I also believe that such fish would need to be independently witnessed.

In cases where there is any doubt whatsoever regarding identification of specie, then the fish must be returned to PSAA, or sufficient photographs must be produced to enable its correct identification.

I do not advocate anything radical. I simply believe that PSAA should be equitably run for the benefit of all its members, including those who live away and are presently largely excluded from participating in the club's competitions and trophies.

A PSAA member who resides in Wiltshire, recently caught a Cod from his own small boat off Watchet in the Bristol Channel. He apparently had the fish properly weighed and witnessed on certified scales near Watchet. He emailed a copy of the weigh-in certificate direct to the Fishing Chairman at PSAA the same evening, after asking him to take it into the clubhouse for inclusion as a possible prize fish in the monthly competition. The original copy of the weighing certificate was retained by the angler for production if required. The fishing Chairman accepted the certificate and did what had been asked of him. Only then did another member raise the question of rule 8 and that fish was immediately excluded.

If that angler had driven to Paignton from Watchet, then returned home to Wiltshire, it would have entailed a 5 hour round trip, which is quite unnecessary, particularly in the depths of winter weather. That is just not on!

PSAA have other rules which further complicate the situation for anglers who live some distance away from the local area. In a seaside Town such members are welcomed.

Angling members of the Association must only register fish with PSAA and/or National specialist angling organisations.

That effectively excludes our Wiltshire based member from joining and weighing in his Cod at a different sea angling club, nearer to his home.

I fully understand the need for this requirement; it effectively deters anglers from weighing in the same fish for prizes at two different clubs.

I have never heard, despite many recent enquiries, of any other U.K. sea angling club, which is so exclusive in its weighing policy, and which makes it practically impossible for a proportion of its members, who pay the same annual fee as local anglers, to participate fully.

The situation was explained to me by the Fishing Chairman at PSAA in terms of, "It's there in black and white. Members are provided with a copy of the Rules when joining the Association. Our decision is final." Alas, if only it were that simple. There are shades of grey in every situation and recent history shows that Rule 8 has not been consistently applied by PSAA in recent years.

In 2003, I won major trophies at Paignton SAA in respect of Black Bream which I caught about 48 miles south of Start Point, well within the club's home waters. I won another PSAA major trophy that same year for a Cod, which I caught from a mark near the mid-Channel light vessel. This is also well within the Paignton SAA club home waters. Although our Port of Departure was Dartmouth, and the fish were properly counted under NFSA Area "C". All of these fish were properly witnessed and weighed-in on arrival at our destination, Guernsey, in accordance with the requirements of the National Federation of Sea Anglers.

I suggest that members of the Fishing Committee at Paignton SAA should now carefully re-read and thoroughly comprehend their existing angling bye-law para. 8 as I have recently done. Clearly the three fish which I caught and submitted in good faith in 2003 were counted by the club, and won the trophies to which I have referred. (Not the prize for best fish from outside home waters, because they were clearly caught within the club's home waters!) At that time, no one considered Rule 8 and my fish were most certainly not excluded. I suggest that the Committee at PSAA should carefully look back through their club records; there will undoubtedly be other examples which they have allowed; others have since been brought to my attention.

I suggest that in the light of their recent ruling, it would be proper that PSAA should now remove my name from the relevant trophies and expunge my success from their club records as the trophies which I won clearly contravened this same rule which they now hold so dear. If their committee has finally and immovably adopted this declared stance, then I agree to have my name removed forthwith from these awards. It seems that there is a rule for some and the same rule has been applied differently in recent years for others. There are shades of grey in every situation, nothing is clear cut.

Having recently excluded and disallowed other specimen fish in similar circumstances, it may be considered wrong for PSAA to make an exception to accept Fred's and Cash's spectacular Eels in the present state of affairs. Although their reasons are undoubtedly honourable, PSAA Fishing Committee has clearly fallen into a hole of its own making and is now continuing to shovel dirt over its own collective head. It does their committee and the wider reputation of their club no credit.

I wish I could report that the PSAA Fishing Committee have again re-examined this rule and applied a modicum of common sense to the overall situation. Alas, they have not. This rule was discussed yet again at their most recent meeting and they excluded both monster Eels. They are apparently hell bent on retaining this absurd rule without any revision whatsoever. The future appears bleak.

Perhaps it would be wise for every UK sea angling club committee to reflect on this. There are three possible courses of action.

Accomplished sea anglers will drift away and join other more accommodating clubs.

Disaffected members could demand an Extraordinary General Meeting.

Legal advice is that members who have been disadvantaged by an unfair ruling have the remaining option of taking action.

Committee members, past and present may be liable for discriminatory action. None of us would wish for any of those options to be exercised.
On a personal level, I have been told that my opinions have been dismissed and derided in some quarters. This has harmed long standing personal friendships and affected my life away from my club. That can not be right or proper. I have supported and worked hard for PSAA. I speak out because I really do care.
Let me finish this sad tale by recounting the silver lining. I received an Email a couple of days ago from Simon Pedley, Skipper of "Our Joe-L" from which Fred Hayward and Paul Cashmore caught their spectacular Conger Eels. You will all be proud to hear that the British Conger Club of Great Britain has tested the actual terminal tackle of both anglers on which these monster Eels were caught. Both sets of tackle met the requisite requirements regarding breaking strain. The BCC will now put forward both fish for the International Game Fish Association light line world records for this species.
Fred and Paul, I admire you both and commend you for your skill and dedication.
Simon, well done for finding the fish, you do your job so well.

I wonder if the next step will be for the Committee of PSAA to exercise their Rule under which I can be expelled for bringing the Association into disrepute?
I don't believe it is proper that if the matter is presented to Committee in an unsatisfactory way, that free speech should be denied.
I have never been out to cause trouble for trouble's sake, but I do hate to stand by and watch matters transpire that I believe to be fundamentally wrong.
I would like my many sea angling friends to be aware of the exact situation, as it really is, and not as some sections would wish it to be.
I rather hoped that this affair would have been resolved to the satisfaction of all parties long before it ever reached this unpleasant stage.


Tuesday 2nd July 2005 - The Management Committee of Paignton SAA would have met back in the middle of June - I believe it would have been the 2nd Monday of the month - somewhere about the 13th - and I have still not received the courtesy of a reply to my letter dated 18th May, in reply to the Hon. Sec's letter dated 16th May.
I spoke yesterday to a long time member who shares my interest in this debacle.
I was told that The Fishing Committee had reconsidered Rule 8 and voted on this matter prior to the Management Meeting. (The Fishing Committee usually convenes on the Monday evening a week prior to the Management Committee meeting.)
I heard that the Fishing Committee had reversed their earlier decision and with the wisdom of hindsight, wanted to change the Rule.
It was alleged that "Fishing" took their recommendations to the Management Committee Meeting, which several "Fishing" members, who are also members of "Management" failed to attend for a variety of reasons and so were not there to vote!
Management allegedly did not vote in favour of the recommendation for change. The proposal was therefore defeated.
If my information is correct, (and I have no reason to doubt my source), what sort of situation does that constitute, when the wishes of active sea anglers are over-ruled by a preponderance of so called "Fishing Members" who perhaps fish very occasionally, or in some cases do not actually go fishing themselves?
Several are in reality "Social" members who hold a vote because they pay an extra £1 per year to remain as "Fishing Members". "Social Members" do not have a vote at PSAA!
If keen active recreational sea anglers fail to attend AGMs, decline to stand for the various committees, or having done so, are unable to attend regular Committee meetings for whatever reason, then they will only ever aspire to reap what they sow. This is so true right across the broader spectrum of our sport.
It is symptomatic of the underlying malaise which adversely affects this otherwise excellent sea angling club.
Sad but true.


Wednesday 20th July 2005 - I spoke this evening with Tim Bird, Chairman of the Fishing Committee at Paignton SAA. Tim told me that what I have reported above dated Tuesday 2nd July is not correct. The Fishing Committee have not again reconsidered Rule 8 and have made no approach to the Management Committee at PSAA regarding any change to Rule 8 which still stands.
Clearly the information which I was given in good faith by a long standing member of Paignton SAA was not correct.
With that exception my previous observations are all completely factual and valid.
Perhaps the time is now here when the Fishing Committee would do well to review the inequitable and discriminatory Rule 8, together with all its implications.


Saturday 13th August - I am disgusted by the Committee at Paignton SAA. I have not even received the courtesy of a reply from the Club Secretary, to my letter dated 18th May 2005, which I wrote in response to his letter to me the previous day.
I will report on any developments if and when they occur. Until then, I shall choose to disassociate myself with this sea angling club which apparently prefers not to communicate with its concerned members. Don't hold your breath!


Tuesday 6th September -

For the personal attention of The Management Committee
:
Les Harding Esq.
The Hon. Secretary
Paignton Sea Anglers' Association
Ravenswood,
26 Cliff Road
Paignton
Devon TQ4 6DH
Dear Les,
Ref: Rule 8 PSAA Angling Bye-Laws
You wrote to me on behalf of the Management Committee of Paignton Sea Anglers' Association in your letter dated 16th May, 2005 demanding an explanation regarding my open letter published in the Herald Express local newspaper.
You will recall that I sent you a full and detailed explanatory reply dated 18th May. I enclosed a copy of the article which I also published in Sea Angling News towards the end of that month, explicitly detailing the various discrepancies which are clearly exacerbated by your Association's Rule 8.
I am saddened that it is now the 6th September and I have still not received any reply whatsoever to my letter.
If your Club Committee is so prepared to bury its head in the sand and not deal quickly and properly with the declared concerns of its members, then it should come as no surprise to you why I felt obliged to write to the local press.
Clearly Rule 8 presents an aporia. Paignton SAA has in the recent past accepted fish caught within the club's home waters off the South-West peninsula, but weighed-in on arrival in Guernsey. This is in apparent direct contravention of the wording of your existing rule. Conversely your Committee has more recently declined to accept fish caught by your members within your Association's home waters and weighed in on properly certified scales at other local clubs, which is equally unacceptable.
Your Fishing and Management Committees have demonstrably failed to put its own house in order.
I would appreciate your early reply as to precisely what, if anything, Paignton SAA Fishing and Management Committees have done to address this particular unhelpful anomaly.
Yours sincerely,


Friday 23rd September 2005 -
Despite my letter above dated 6th September, and a subsequent meeting of the Management Committee of Paignton SAA, I have still not even received the common courtesy of an acknowledgement or reply from Paignton SAA.
They have had since last May to do so!
Paignton SAA has to date not revisited or revised Rule 8.
It is therefore with a measure of regret that I have decided not be re-join Paignton SAA for the coming year.
My good reasons should be obvious to all existing and prospective members of this Association, which clearly does not value, listen to, or take reasonable notice of its members.


Monday 26th September 2005 -
Letter received from Les Harding, Hon. Sec. of Paignton SAA dated 23rd September.
Dear Mike,
Thank you for your letter dated 6th September, this was discussed at the last Management Meeting and I will be happy to write to you if there are any further developments.
On a personal note I apologise for not acknowledging the reply to my letter dated 16th May.
Yours sincereley
Les Harding
Hon. Secretary.

Monday 26th September 2005 -
Reply to Les Harding - for the attention of the Management Committee, PSAA.
Dear Les,
Ref: Rule 8 PSAA Bye-Laws
Thank you for your letter dated 23rd September.
It is apparent from the tenor of your reply to my letter of 6th September, that the Fishing and Management Committees have entirely failed to address the inequitable and discriminatory provisions of Rule 8 in your Association's handbook.
You have never provided any helpful or constructive feedback whatsoever on my original correspondence dated April and May 2005, which details the precise nature of the inherent difficulties.
I am disappointed by the intransigence and inertia displayed by both your Association's committees to this relevant issue.
Patsy and I have decided that we shall therefore not be rejoining Paignton SAA.
Yours sincerely,


_____________
Mike Concannon