Paul Cashmore, who hails from the Midlands, is a member of the "Seafield" A.C. who are based in Paignton. He regularly fishes out of Brixham aboard Chris Willicott's charter boat "Seaspray III".
Paul is a light line fanatic, well renowned for his feats of hauling monster Conger from the depths on 12lb class tackle.
On Tuesday 3rd July, Paul was aboard "Seaspray III" fishing a wreck mark some 18 to 20 miles out from Brixham. He caught several Congers around 30 to 40 lbs, which were returned alive.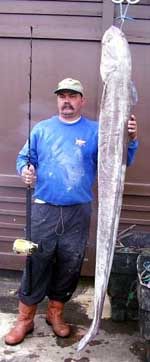 He then hooked into a somewhat larger eel, which after three crash dives and a prolonged battle eventually surfaced about 50 yards behind the boat.
The fish was landed and later weighed ashore on certified scales. It weighed 62lbs 4ozs.
It fell to a Mackerel and Squid cocktail bait presented on a 300 lb trace to avoid bite through by the Conger's powerful jaws.
The was submitted for testing to the official body to determine its precise breaking strain. Subject to the outcome of those tests, this fish appeared to be a contender for the British; European; and World records for the IGFA light line class for Conger.
I've just received confirmation, almost a year after the capture, that Paul's Conger has been confirmed as the new "World Record" for 12lb class tackle.
Here's a picture of the World Record Certificate to confirm this information. Wouldn't you just love one yourself to frame and display on your wall?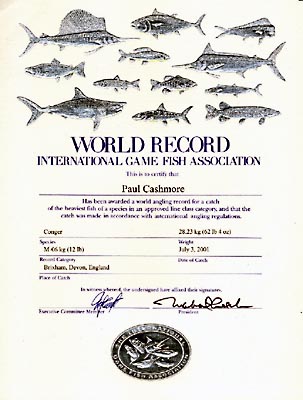 Well done Paul. I'm with you on the use of light tackle, it makes the resulting sport such an even and exciting challenge.