Monday 26th May 2003 - I received a telephone call relating an alleged unsubstantiated conversation heard in a Brixham pub' that the Skerries had been trawled during the previous night. We all know it happens from time to time, despite the large "No Trawling at Any Time" box on the south western part of the banks.
Come on Devon Sea Fisheries Committee, can't we have some better cover during the night from time to time to deter this sort of activity?
The Skerries are a "National Treasure" (to use the words of another satisfied angler), let's try to keep it that way.
The protected "No Trawling" box is an area within the following boundaries.
From a point approximately 400 yards west of the Skerries Bell Buoy (at the eastern extremity of the banks), take a diagonal line to the Torcross Hotel (the large blue painted building) in Torcross Village (at the western extremity of Slapton Sands).
Now follow the coast line along Beesands and Hallsands, out to the Lighthouse at Start Point.
From Start Point, take an imaginary line due south (out to sea) for 1.6 miles.
At that seaward mark, turn north east and head back to the Skerries Bell Buoy. The area contained within these boundaries is designated "No Trawling at Any Time".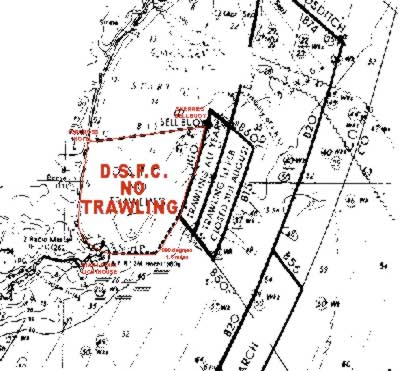 If you see a Trawler with its gear down within this box, you should take the appropriate action:-
Identify the vessel & note its description & identification number

Make a note of its exact position (either via GPS data or compass bearing & distance from observation point)

Phone Devon Sea Fisheries Committee at Brixham on 01803 854648 (if out of hours please leave a message & your contact details so they can follow it up later)
We appreciate that it is legal to drag for scallops between 7 am and 7 pm, but not during the night time, or to wash nets within the protected box, but we must help the authorities to build a picture if we are to seek their cooperation to effectively address this problem. Let's do our best to protect what we've got!

Wednesday 28th May - The jungle drums have been beating particularly well, or is it just the positive power of the Internet? Provided that sea anglers exchange information and cooperate, we can address and resolve problems such as the unlawful trawling of the protected "No Trawling" box on the Skerries, which was addressed on Monday 26th May - see above.
Two sporting sea anglers were in their own boat at anchor & showing the required white light, while night fishing with rod and line well inside the "No Trawling" box in pursuit of Small Eyed Ray last Sunday night.
They were concerned when a Brixham Registered Trawler showing no lights whatsoever, towing its gear, passed within no more than 20 yards of their anchored boat.
These anglers wrote down an accurate description of the offending vessel, complete with its registration number, which has now been passed to the Devon Sea Fisheries Committee for action to be taken. That's the proper remedy to institute to deal with such offenders.
The best action in these circumstances, would have been to contact the Coastguard Office at Brixham at the time, via channel 16 on the VHF radio, or via mobile 'phone on 01803 882704 to report a "near miss".
H.M. Coastguard collate such incidents, though it is necessary for the complainant to subsequently obtain a form from either his local Harbour Office or H.M. Coastguard, which has to be completed, to allow the incident to be followed up and investigated by the Marine Accident Investigation Board.
It's easy to be clever with the wisdom of hindsight.
Keep it up chaps - well done - if we work together, these fish robbers can be sorted out.

Friday 30th May - further to item of 26th & 28th May above ref. unlawful trawling at night in protected box on Skerries. Information now received from D.E.F.R.A. via a local diver, that it is illegal to rake for Scallops in Start Bay between 7.0 pm and 7.0 am. Apparently it is outlawed by an existing South Devon Sea Fisheries bye-law. The net tightens!

How many of you are personal members of the NFSA? It only costs about £12 per year. They need your support if a united voice is to be heard and be truly representative of our many enthusiastic sea anglers. You can contact the NFSA on 01626 331330 to join them.
By contrast, the Salmon & Trout Association charges £25 per year for membership and takes a far higher profile on matters such as offshore netting; salmon farming; pollution; and sea lice, etc, with full page adverts in the relevant publications.
What's it going to be like in the next couple of years, when the Spanish boats and other EEC commercial fishing vessels are allowed into our inshore waters? Will it end up like the Mediterranean - tiny fish only! Time is fast running out.
We have all heard the saying, "Not in my back yard", but acute similar problems abound in every coastal water surrounding the British Isles.
If you are based elsewhere in the UK, Take the trouble to call the Environmental Agency enquiries desk on 0845 9333111 and get the number of your local Fisheries Office.
Find out what regulations there are on commercial trawling wherever you fish. Get to know your local Fisheries Officer. Put their number on your mobile 'phone and call them when you see flagrant disregard for the local fisheries laws in your particular area.
You just have to stand up and make a point when you see something with which you profoundly disagree. The commercial fishing interests are presently trampling all over us.